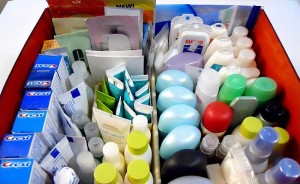 You are finally packing to go on your dream vacation. You've been looking forward to it for months, and are just about to get on the airplane for the adventure of a lifetime. You don't want to have your trip wrecked by something so simple as not being able to find shampoo in a country that doesn't speak your language, so what do you do?
In Southeast Asia, most lotions have skin-whitener. In America, they have skin-darkener and the bottle sizes are huge. In a lot of countries there is no English on the bottle, so you have to look for familiar bottles and guess. The softest hair I've ever had was because of some shampoo I will never be able to find again, and I love that.
Even with all of this excitement (I know you can hardly contain yourself), I always have one small bottle as a backup for those times when everything goes wrong. It is a bottle of miracle liquid that can clean absolutely anything, from hair to skin to clothes to floors, all while smelling great and never leaving a stain. It's also completely natural, which means it can even be used to brush your teeth.
Enter Dr. Bronners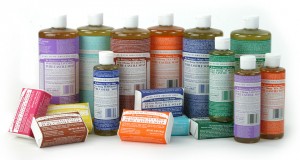 I keep a 3oz bottle of this miracle with me at all times, and it has never let me down. There are a ton of flavors available, but I prefer mint for the "slap-you-awake-in-the-morning" feel that I love so much. This bad boy isn't afraid to let you know it's working magic to leave you cleaner than you've ever been, and it leaves you feeling incredibly fresh and invigorated to take on whatever adventure comes at you.
I was once at a party in Paris when a chemistry student started stunning everyone with a list of household toiletries and their ratings of how horrible they were for you. One by one, people told her what they used, and she laughed as she told them it was a 9/10 and detailed the horrible things it could do to you over time. Curious, I walked over and threw in "Dr. Bronners". She scanned the list, and paused. "Wow. I've never seen a 1 before. This stuff is good."
And I've never looked back. Why would you, when you know you have the best? I just keep some in a GoToob and I'm ready for everything, no worries.
Feel free to get a bigger size to keep at home for regular use, too, because you will get addicted to how clean you feel, as well as that "ready to take on the day" feeling.
Get it from Amazon