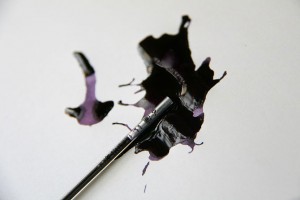 One of the biggest annoyances about constantly being on the go is never having a pen. You go through most of your life not needing one, then suddenly you need one right now, and it's a deserted wasteland of penlessness for miles around.
Sure, you could carry a pen in your pocket, but that only ends in one of two ways. Someone borrowing it and never returning it, or you scratching an itch on your face before noticing an explosion of blue on your hand that you just smeared all over your face. Now you have to surreptitiously make your way to the bathroom to scrub your hands raw trying to get out permanent ink while everyone wonders why you look like you lost a headbutting competition with a smurf.
And science has delivered in spades.
First off, there is the Inka Nite Ize. It's lightweight, yet still has a stainless steel body to keep it safe from ever breaking. It pulls out quickly for quick forms, and builds into a full-size pen in only a few seconds so you can focus on the next chapter of your novel. I carried one of these in my pocket for 6 years, and was always happy to have it on my keychain, ready to go at a moment's notice before collapsing to disappear away in my pocket until it was needed again.
Recently, however, I upgraded to the Beta Inkless Pen. This bad boy is from the future. It is 100% pure metal, all the way through, and that's not a metaphor. It writes like a pencil, smooth and solid. The writing even looks like a pencil, but it's all metal, refusing all attempts to smudge like little kids refuse to eat vegetables.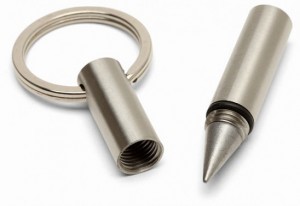 This sleek metal cylinder has a lot of other benefits over the Inka, as well. There are no plastic parts to break. You don't have to assemble anything. You will never have to worry about running out of ink or having to buy a replacement cartridge while in a foreign country.
Yes, it is writing like a pencil does, by slowly spreading metal across the paper. It doesn't burn through soft graphite like a pencil does, though, which means even the keychain pen will last over 100 years before you need to get a new one. Which is convenient, as that is right about the time you might stop being impressed by it.
Maybe.