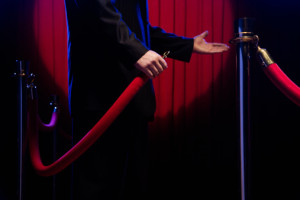 The reason you are supposed to arrive at an airport 2 hours ahead of time is because of the overwhelming lines. Ticketing, security, immigration, food, it's completely ridiculous. I'm going to teach you how to skip every single one of those lines so you can screech up to the airport minutes beforehand and walk directly to your seat, martini in hand, ready to scoff at the exhausted commoners.
How to skip ticketing lines
As son as you walk in the door, a massive line wraps back and forth like the hardest game of Snake you ever played on your Nokia. Kids screaming, piles of suitcases, and the last thing you want to deal with.
So don't.
Since we live in the future and rarely have to interact with other humans, there is a way to skip the entire line. The first step, in case you missed the name of this site, is not checking a bag. That long line is for the people who think they need a month of shoes for a weekend vacation, and you aren't one of them. If you need tips, sign up for the mailing list to get the detailed packing list that will get you on your way.
Since you can avoid the line, you now have options. If you have a smartphone, just check in online beforehand and have them scan your screen instead of a dead tree. If not, just walk up to the kiosk next to the heaving crowd and print out your boarding pass in 15 seconds flat.
Done.
How to skip immigration lines
This is a painful line. Everyone from your plane comes running out at once, stampeding over each other to wait in this line for an hour with other people that don't speak their language. Luckily, there is a way to deal with this once and never wait in this line again.
The Global Online Enrollment System (GOES) is simple. You head over to your nearest major airport, scan your fingerprints, and answer a few questions letting them know you aren't a terrorist. Done. Now you are entered in the system and get to walk right past the line to a little kiosk that scans your passport and fingertips in 5 seconds, and walk out of the airport, happy to be home. You don't even have to fill out those horrible immigration forms on your pull-down table in the airplane.
The system is expanding right now, and soon you will be able to do this in Australia and a few other countries, too.
There is a one-time fee of $150 that gets you in the system for 5 years, but you can skip this fee as well by signing up for an American Express Platinum card. This card also gets you into airport lounges, reimburses $200 of airline purchases, and even gives points. I've always been happy to carry it.
How to skip security lines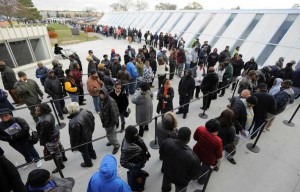 The longest and most dreaded lines in an airport, security lines are the main reason you have to get to the airport so early. Here are a couple tips to get rid of this torture.
When you get to the airport, find a map. Airports usually have several security checkpoints, and they tend to be crowded at different times. By going to the out of the way checkpoints, you will find much shorter lines. One time I walked past a 90 minute line to a checkpoint about 100 feet away that had nobody waiting. I just walked right through, laughing at the suckers in line.
If you want to skip the lines entirely, there is someone who can make that happen. Clear is a company that does exactly what GOES does, but for security lines. They are only in major airports in the US, but if you live in or are traveling to one of these cities, it's a lifesaver.
If you are interested and are traveling soon, you can sign up this week only for 3 free months by entering in the secret code "TRAVELEASY". If that coupon dies, I can give you a free month through my personal link. You're welcome.
How to skip food lines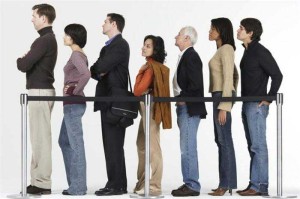 Once you have made it entirely into the airport, you just want to grab a snack and wait in peace. There are a few ways to do this. The most comfortable option is by heading to the airport lounge. If you get the American Express Platinum or join Priority Club, the airport lounges are yours for the taking. Walk in, grab some free food, and watch planes take off while you surf the internet and sip on a cocktail.
If that's not an option or you are just craving food from that Wendy's in the concourse, just remember that it's a restaurant like any other. If you see a massive line, find their phone number and call your order in. Relax for 10 minutes, then go pick up your order without fighting past the crowds.
Done.