Of course Thailand is near the top of most people's travel lists. It's covered in exotic beaches brimming with some of the most deliciously healthy food in the world. So many movies have been filmed on its gorgeous islands that you can pick whether you want to visit the filming locations for James Bond, The Beach, or any of the other movies that used its stunning white sands and palm trees as a backdrop. You want to experience the amazing things few others know about, though. Playing with tigers and elephants while exploring forests and relaxing in rivers.
Resort town relaxation: Phuket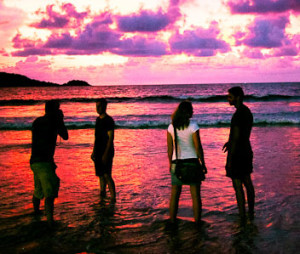 Pronounced "poo-ket", which is only slightly less funny than the way most people mispronounce it. This is where you get your full vacation relaxation on, as it's covered in beaches and resorts. You are never far from a freshly-opened coconut and a mixed drink, even when you are waist-deep in the ocean.
You can do pretty much anything you imagine on the beaches here, from jet-skiing to paragliding to surfing, at any hour of the day. At night the party rages on in the center of town, but you can always head back to your hotel room for peace and quiet. Or just pass out on the beach next to someone else, then commiserate over your sunburns when you wake up.
Diving and dancing: Koh Tao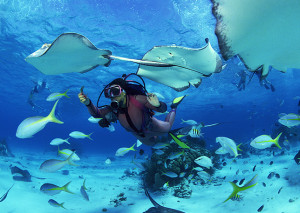 Thailand is one of the most beautiful places in the world to get SCUBA certified. You can buy packages anywhere in the country, but they will all take you to Koh Tao to dive. With underwater art sculptures, sunken boats, and plenty of colorful fish everywhere, I can't blame them. There's even the occasional whale shark, if you're lucky.
At dusk, one of the greatest fire shows in the world starts, with performers throwing flaming balls to each other over the crowd, catching them, still spinning, with only their toes. It's a perfect introduction to the all-night dancing that takes over the beach each night. Just be sure to grab a banana-nutella crepe before you stumble home.
The party: Koh Phangan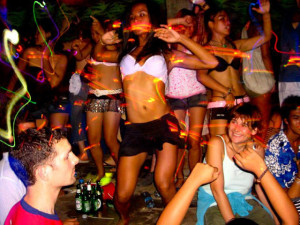 There is only one reason to know this island. The Full Moon Party. Once a month, its sprawling beach opens to tens of thousands of partiers drinking from buckets, dancing on trampolines, and leaping over flaming jump ropes. The entire beach faces east, in full view of the giant moon the entire night. This is genuinely not to be missed, as you are sure to make friends from all over the world that you can compare injuries with the next day.
Aside from that singular night, this is a sleepy island. Pick any of the small houses on the beach to recover at, reading books in your own hammock while 5 colors of sunset drop behind you.
The other islands
There are dozens of them, each with their own slightly different personality. If you want to explore, here's a quick rundown of some others.
Koh Samet: Where the locals vacation. Less foreigners, more Thai food. A new beach every 200 feet.
Koh Samui: Like Phuket, but smaller. It has a beautiful open-air airport.
Koh Phi Phi: Where The Beach was filmed because it was secluded. Now it's swarmed.
Koh Phing Kan: Where James Bond: The Man with the Golden Gun was filmed. That's about it.
White wonder: Chiang Rai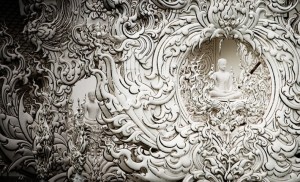 Up in north Thailand, away from all of the beaches, you can dive into what the local culture is really like. Life is slow, people are friendly, and Thai is spoken more than English. There are plenty of temples to visit, but one in particular is amazing.
Wat Rong Khun. The White Temple. This beautiful and terrifying buddhist temple inspired by science fiction takes you through a range of emotions, from reverent to stunned to horrified, all in a single walk. You will be admiring every little ornate detail of this entirely white temple until you look off the bridge and notice the sea of hands reaching up toward you.
Here we go! Bangkok
Quick fact: The Bangkok Airport is the most-Instagrammed location in the world. Second most? The Siam Paragon Mall in Bangkok. It may have something to do with the beauty, but it's likely the pure excitement of the people arriving. Bangkok is a thriving, bustling city with lots of markets, rivers, and so many events you would never have time to do them all. No wonder people are looking for an outlet for all that energy as soon as they arrive.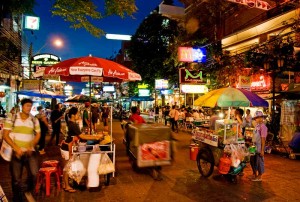 The main hub for all foreigners is Khao San Road (pronounced "cow-sahn"). This tiny stretch of road is lined with bars, restaurants, and vendors selling everything from custom-tailored suits to knockoff sunglasses to toasted scorpions. If you want to do anything in Thailand, this is where you find it. I recommend getting a place in walking distance, as you are likely to end it here, as well.
During the day, Khao San is completely empty aside from the few stragglers figuring out where their hostel was. The rest of Bangkok, however, comes alive. Street markets are everywhere, selling fresh food made right in front of you, local handmade crafts, and tours of the amazing temples in the area. Unfortunately, they are all smothered by tourists year-round. Far better is going to a floating market a little out of the way to experience more of what Thailand has to offer.
Floating cornucopia: Khlong Lat Mayom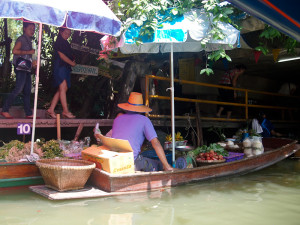 This large floating market at the intersection of two rivers has so much amazing food that you should plan on spending hours grazing across everything. Fresh mangoes, sugarcane juice, Thai iced tea, heaping plates of Pad Thai… it's heaven for people who love to eat.
Make sure to grab some snacks and take the boat tour of the area, sliding inbetween houses on a tiny river before taking a long walk through the town with lots of locals who love to chat. This place still isn't very well known, so I recommend reading Bangkok Magazine's coverage, which even has directions in Thai to show to a cab driver.
Playing with tigers and elephants: Kanchanaburi
Let's face it. This is the exciting stuff. There's nowhere else in the world you can just walk up to tigers and pet them like a housecat. Nowhere else can you ride an elephant through the forest, then have it splash you with water on the stunning vistas of the River Kwai. This is the kind of adventure you can only have in Thailand.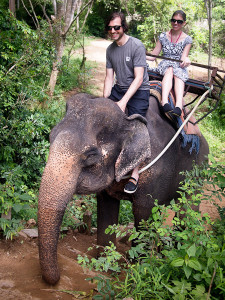 First off, it's about 3 hours outside of Bangkok. Feel free to stay up late the night before, as you will have time to sleep it off. They will rouse you once you arrive at the forest where the elephants live. Climb onto the back of your favorite elephant and begin wandering around the paths and trees. Climb some stairs. Feed him a papaya to reward him for being so awesome. Be amazed that you are on the back of such an amazing creature.
Once you have explored enough, make your way down to the River Kwai. Lumber into the water, and try to guess when it's going to splash you with a trunk full of warm shower pulled from the river. Eventually, it will be time to go and he will shake you off in a big splash. You can try to resist, but nobody can stay on a bucking elephant.
Scarf down your delicious lunch, because you don't want to waste time before playing with the tigers.
Some decades ago, local villagers rescued a tiger cub from a poacher who was going to kill it. Not knowing what to do, they took it to the monks of a nearby monastery. The monks graciously took it in and began to raise it. The story spread, and the next year the villagers rescued another tiger cub and brought it to the monks, who also took it in. Over the years, more cubs were brought and the existing cubs got bigger. Having spent their entire lives around kind humans, they didn't think anything about living side by side with them.
Today there are dozens of tigers living inside the wild landscape of the sanctuary, and the monastery raises the money to feed these tigers by allowing a small amount of the public to enter and mingle with them. The sanctuary is run almost entirely by volunteers from around the world, who are happy to tell you about how well the tigers are treated in detail. They deal on a daily basis with wild rumors that exist about the place, like the tigers being docile because they are vegetarian (which is impossible, as they are carnivores) or drugged (which would have been noticed by the regular checkups international monitoring organizations conduct). In reality, tigers are just cats, and like all cats, they sleep about 18 hours per day. These just don't mind if you pet them while it happens.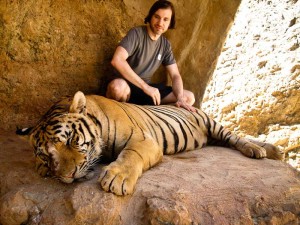 You will notice how large the park is as you hike alongside the other animals who live there uncaged, including peacocks, boar, and deer. As you visit and pet the tigers, the staff is happy to take pictures of you loving up on the feared beasts. If you time it right, you can also play with a group of the tiger cubs as they purr and roll around with you, just like a deadlier version of fluffy at home. If the bigger cats are more your style, you can try your hand at showering them or hand-feeding them at feeding time.
Despite being so sleepy, the tigers get plenty of exercise. However, nowhere else do you get to be a part of it.
Insider travel tips
1. Don't make any reservations before you arrive. Hotels, tours, and even flights inside Thailand are all dramatically less expensive once you arrive, and there are travel agents everywhere.
2. If you don't like where you are, move. There are countless beaches with different personalities. Find the one that right for you, and spend all of your time there.
3. Talk to other foreigners. They will know about the adventures you would never hear about otherwise, and they will be great company when you go.
Thailand deserves all of the desire people have to travel there. You can relax on the beach, party all night, and play with tigers and elephants all day. It truly feels like you have escaped to an exotic foreign country where everything is awe-inspiring in the most relaxed way.