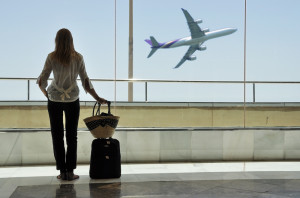 I'm a chronic under-packer. But that doesn't mean that I wind up wearing the same 3 musty, mismatched outfits when I'm on the road. Instead, it's actually possible to be fashionable while maintaining your minimalist travel cred. I haven't checked a bag since 1999. Here are some of my tricks, with a few tips especially for the ladies:
Gear up
A well-designed piece of luggage is key – it'll be easier to carry, easier to pack, and easier to find things buried in the inner depths of your bag. For the past six years I've been using the Burton Wheelie Double Deck and the Marmot Femme Nikita (now discontinued, but the Kompressor Summit Pack seems like their closest replacement), depending on where I'm traveling and what I plan to do. If I'm headed to cities with decent roads and most of my transit will be by plane or train, I'll take my wheelie. This works best when I'm traveling in the US or Western Europe – where I tend to stay with friends or at an Airbnb.
For all other situations – when I may be running after buses and trains, climbing rickety guesthouse staircases, and roaming around cities with dubious public works departments, I'll bring a pack. Nothing is trickier than trying to balance a wheelie on your head while wading to shore through hundreds of yards through knee-deep ocean water because your boat arrived at low tide (this happened to my friend in Southern Thailand). As an added bonus, on budget airlines in Asia and Europe you can often manage to squeeze a pack down to meet the stringent cabin baggage size and weight limit to avoid paying for a checked bag (Air Asia, I'm looking at you).
Chris has already written about his favorite pieces of luggage, so here's my perspective.
Wheelies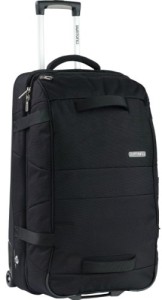 While Burton seems to redesign its Wheelie every year, the basic form remains the same: unless you stuff it to the gills (it's soft on 3 sides), it'll easily fit into standard airplane overhead compartments. I'm told it's the standard issue carry-on issued to all Virgin America flight attendants. The handles on the top and side of the case are solid and easy to grab, the two halves of the main internal compartment zip shut separately (no exploding suitcase syndrome when you open it up at your destination!), and the external top pocket offers easy access to your toiletry kit while you're going through security, or when you pop into an airport/train station/bus depot bathroom for a bit of freshening up.
Living up to its Burton name, the case sits on a pair of skateboard wheels, which are sturdier and smoother than standard baggage wheels. This comes in handy on uneven streets or when you drag your case off a high curb.
Packs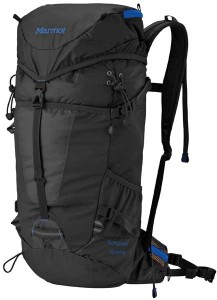 I'm usually skeptical of products that are marketed as "specially designed for women," but one piece of lady-specific gear has changed my mind: my backpack. I've been using the Marmot Femme Nikita since 2004, but unfortunately, the company appears to have discontinued this line. But here's what I like about mine, and what I'll look for in my next pack:
Designed for short torsos: I'm a small girl (just under 5 feet tall), so most unisex internal frame packs are just too tall – the shoulder straps and hip straps don't fall at the correct location. Making sure that a pack sits properly means it'll be comfortable to wear and – most importantly – the load you're carrying will be properly distributed across your body, which makes it much easier to carry around, up and down stairs, and across entire cities.
Top and side access to the main compartment: Having 2 access points makes it much easier to find that one particular shirt you're looking for without unpacking the entire bag.
Smaller sub-compartments in the bag: well-designed spaces inside the top flap and in the main compartment help organize smaller items, like flashlights, power converters, and your toiletry kit. I always put my toiletry kit in the top flap if I have to go through a TSA checkpoint, it makes everything so much faster.
The Femme Nikita originally comes with a detachable daypack, which I think it too small and flimsy to be of much use. Instead, I bring along a small, lightweight messenger bag (one which nearly packs flat, or can be rolled up). I like Rickshaw Bagworks' Zero Messenger Bag (I have one with the optional organizer insert, which makes a super convenient zippered inner compartment for valuables).
Pick any color, as long as it's black
Many travel sites will advise you to choose a "neutral base color" and pack a variety of coordinating separates  to create a variety of outfits. I take it a step further, and make sure everything I bring is black- it's dead simple to throw together an outfit, no matter what's clean, and you can get away with wearing the same shirt three days on a row if it really comes down to it.
Priorities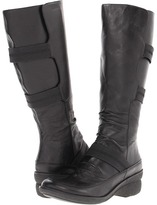 Two items to never skimp on: underwear and shoes. While some minimalist travel blogs claim you can get by on 2 pairs of microfiber undies, I go ahead and pack at least 10 pairs, as well as a few unlined or lightly lined bras (try to avoid anything push-up or heavily padded). They're small. Pick lightweight pieces that are easy to hand-wash and dry – recent favorites are nylon mesh hiphuggers from Uniqlo. Make sure to pick something comfortable, lightweight, and quick-drying.
Nothing is worse than buying a cheap pair of shoes  and dealing with painful blisters and pinched toes as you wander around a city. When traveling somewhere in cooler weather, I bring a pair of knee-high black boots and a pair of flats: either tennis shoes or ballet flats (especially if I'm traveling for work). You can wear the boots over jeans and with dresses. Try to pick a pair that's waterproof or reasonably water-resistant (you can also use a waterproofing spray like Kiwi Boot Protector), so they'll double as your rain gear. And definitely choose a pair with zippers (not laces) to speed you through security.
The lynchpin of my under packing strategy, of course, is the fact that I'm a natural-born shopper. Wherever I go, I seek out flea markets, outdoor bazaars, thrift stores, and designer-owned boutiques. Clothing makes an especially great souvenir: it's not fragile, it's easy to pack, and every time you wear it you'll remember where it came from. I've gotten a beautiful scarf in Bangkok, tank tops in Hong Kong, a hand-silkscreened hoodie in Berlin, and my new favorite sweater-coat in London. And if you find yourself with too *many* clothes while you're on the road, you can always give away a few pieces or donate them to a local charity – regardless of what you ultimately bring home, it's a great way to remember a particular city or moment in your travels.